OFFICE HOURS AT UAW LOCAL 95
TUESDAY, WEDNESDAY, THURSDAY-10:00 a.m.-3:00 p.m.
UAW/GM Benefit Rep. at Local 95 - Wednesdays 8:30 a.m.-1:00 p.m.

CHECK OUT . . Calendar updates for May & June (link shown above)
A Tentative Agreement has been reached at Unit #9 Mercy Clinic East. Ratification meeting and vote has been scheduled for Tuesday, May 21st at 6 p.m. in the Local 95 Union Hall.
MAY GENERAL MEMBERSHIP MEETING... THURSDAY, MAY 16TH AT 6 P.M.
ATTEND YOUR MONTHLY MEMBERSHIP MEETING AND SUPPORT YOUR UNION!!

Announcements: Unit #7 BHCCU, is very pleased to welcome back to our Bargaining Committee a member who served in the past, Ginny Duller. Thanks Ginny for once again, stepping up to serve your Unit #7 membership.
Unit #12, PCCU, also is fortunate to add experience to their Bargaining Committee with the addition of Hollie Dennis, who served as a Committeeperson a few years ago.
Thanks and WELCOME..Ginny and Hollie.

THANKS, BOB: At the March 28th Retired Worker's Chapter Meeting at Local 95, our past Local 95 Retiree Chairperson, former Region10 Director, and friend, Bob Vicars was honored with a plaque presented to him by Region 4 Director Ron McInroy, Assistant Director Brad Dutcher and Intl. Servicing Rep. Tony Rainey. Bob was thanked for his service to his Local, his Region and his Retiree Membership.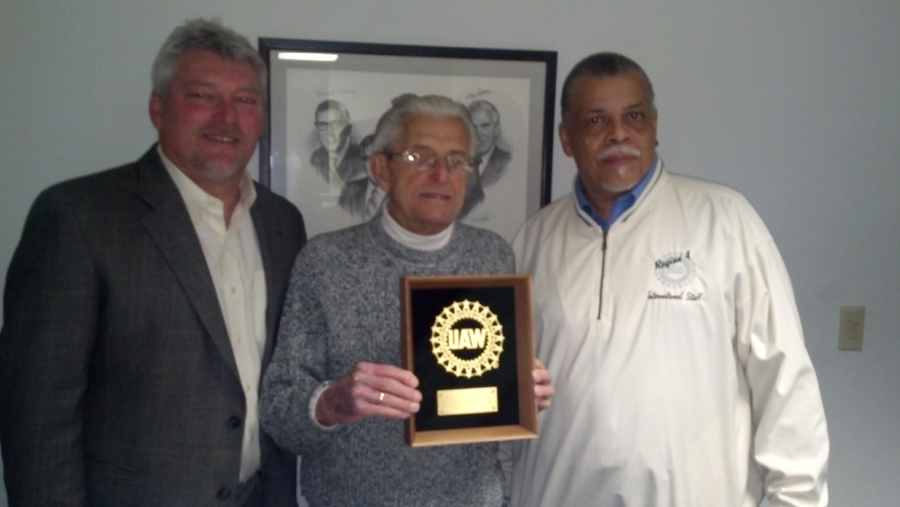 Shown from left to right: Region 4 Asst. Director Brad Dutcher, Bob Vicars, and Intl. Servicing Rep. Tony Rainey.

GM PLANT POEM BY WILLIAM WALLACE: I am sure I am not the only one that drives by our GM Plant in Janesville and actually misses the traffic jams at shift change, parking lots full and overflowing with cars and trucks, and people bustling to get into the Plant and to work on time. We have amongst us a member who puts his thoughts to poem. We requested and he graciously gave us permission to print of one his works. "The Plant Is Now Empty"

We included with his poem an illustration by our own Bill Fitzsimmons, which he did at the time of our GM Plant closing for our Local 95 Union News.

Our thanks to both William Wallace and Bill Fitzsimmons.


BENEFIT ANNOUNCEMENT REGARDING DAVIS VISION: You may have already received notification from Mercy Health Systems that effective March 1, 2013, Mercy Vision Centers will no longer accept Davis Vision Insurance. The full service Davis Vision provider for the Janesville Area is Wisconsin Vision. For any other information you can contact Davis Vision at 1-888-672-8393.


WELCOME: We are very pleased to welcome two new Chairpersons representing our Unit #9 Mercy Clinic East and Unit #12 Parker Community Credit Union memberships. Sandy Horner was elected on February 12th as Chair at Unit #9 Mercy Clinic East. Joann Shafer was elected Chairperson for Unit #12 PCCU on January 31, 2013.
Since both Sandy and Joann were serving as Committee People at their Units; elections were held to fill their committeeperson positions. Gail Lovell was elected at PCCU and at MCE, Marcia Tatge. We welcome both Gail and Marcia to the Bargaining Committee.
We would like to thank their predecessors, Sue Arndt at PCCU and Marge Asselin at MCE for their service to their respective Units.


MEMBERSHIP MEETING: The May General Membership Meeting will be this Thursday, May 16th at 6 p.m. at the Local 95 Union Hall.


Benefit Rep Hours:Benefit Rep. Mike Feirn has regular hours on Wednesdays from 8:30 a.m. until 1 p.m. at UAW Local 95 in Janesville. We encourage members to call Local 95 before you come to see Mike to check for any cancellations due to weather or other unforeseen circumstances. We try to announce changes on this website and on our phone answering machine (608-755-5120).
Mike can also be reached at the Region 4 Office on his toll-free number, 1-866-782-6512.

A MESSAGE FROM INTERNATIONAL UNION UAW PRESIDENT BOB KING ON THE NOVEMBER 6TH NATIONAL ELECTIONS: We received the following message from our Intl. President Bob King .

Workers Compensation Attorney: The Gillick, Wicht, Gillick & Graf, Injured Worker's Law Firm, has discontinued their scheduled hours at Local 95 every other month. They ask that you contact their office in Milwaukee via their toll-free phone number (800-942-2880) and schedule an appointment date and time to meet with them, making their trip to Local 95 more cost and time efficient. Again, they can be reached at toll free number 800-942-2880.

PHONE DIRECTORY: We have updated our Phone Directory. You can check it out by clicking on the link shown above.


WELCOME: The UAW/GM Legal Services have their office open at the Local 95 Union Hall. We hope that the UAW/GM members will find this location even more convenient for their needs. UAW/GM Legal Services will retain their original phone number of (608) 755-1566.

2013: A few changes coming this Year:
* Our Monthly General Membership Meeting will be held the 3rd THURSDAY OF THE MONTH AT 6 P.M.
* Now more than ever, it is important that our membership keeps their addresses and phone numbers updated with the UAW. Communication is key to keeping everyone informed. Please call the Union Hall at (608) 755-5120 during regular officer hours to make any changes. If after hours, please leave your contact information on ext. 100 and an officer will call you back.

7/19/11: UNION HALL HOURS CHANGED UNTIL FURTHER NOTICE: The Local 95 Office will be open on Tuesdays, Wednesdays and Thursdays from 10 a.m. until 3 p.m. until further notice. Please note: this will not change the hours of our UAW/GM Benefit Rep. Mike Feirn. His hours remain 8:30 a.m. until 1 p.m. on Wednesdays.