OFFICE HOURS AT UAW LOCAL 95
TUESDAY, WEDNESDAY, THURSDAY-10:00 a.m.-3:00 p.m.
UAW/GM Benefit Rep. at Local 95 - Wednesdays 8:30 a.m.-1:00 p.m.

CHECK OUT . . Calendar update for May (link shown above)

Local 95 Veteran Announcements:
May 30th - Milwaukee Memorial Day Parade (downtown Milwaukee starts at 2 pm)
For more information go to: www.war-veterans.org/Parade.htm
July 16th - Wisconsin Vets Day - Union Grove Veterans Home - Volunteers asked to arrive at 9 am Contact Joe Razdik (262) 632-7726

Aug 11-14- Operation Badger Base - To Commemorate the 50th Anniversary of the War in Vietnam.
The event will commemorate Wisconsin Veterans on the grounds of Harley-Davidson, 6200 Millpond Rd., Madison WI.

Sept.1-5 - The Moving Wall - American Legion Post 1 - Germantown WI (2016 Labor Day Weekend) It will be on display at the
Kennedy Middle School athletic field.
"Freedom is not free, it comes at a price and the price of that freedom is written on the wall".

Special Announcement for Vietnam Veterans: You will receive compensation for the diseases listed but you must file a VA
Disability Claim. Click on the following to read more: document
ANYONE CAN JOIN OUR UAW LOCAL 95 VETERAN'S COMMITTEE. WE WOULD WELCOME NEW MEMBERS!! CALL THE UNION HALL FOR MORE INFORMATION, 608-755-5120, EXT 111.
*****************
BENEFIT REP MIKE FEIRN'S UPCOMING HOURS AT LOCAL 95:.
Wed., May 4th ...Hours of 8:30 a.m. until 1 p.m.
Wed., May 11th ...Hours of 8:30 a.m. until 1 p.m.
Wed., May 18th ... Hours of 8:30 a.m. until 1 p.m.
Wed., May 25th ... NO HOURS DUE TO CONFERENCE
Wed., June 1st ... Hours of 8:30 a.m. until 1 p.m.
We all know, that things can come up that might change the above schedule, so if you are traveling some distance, please call the Local 95 Office 608-755-5120 and listen to the recording. If Mike won't be in, we will have it on the recording and on our webpage.
To reach him at his Region 4 Office, please call 1-866-782-6512
Our Unit #9 Mercy Clinic East are currently in Contract Negotiations:
The membership of MCE, Unit #9 took their Strike Vote on Mon., April 25th at the Union Hall.....YES by 97%...THANKS TO THE MEMBERSHIP FOR SHOWING THEIR SUPPORT TO THEIR BARGAINING COMMITTEE: Chair Sandy Horner, Committee members: Wendy Winchell, Paulette Castillo and Marcia Tatge and International Servicing Rep. Tony Rainey.
We will do any updates on our Website under #9 Mercy Clinic East (as shown on the left of the screen)

Bernie Sanders Town Hall Meeting: WELL ATTENDED AT LOCAL 95 UNION HALL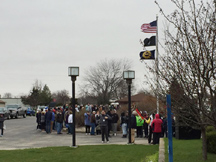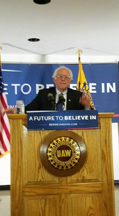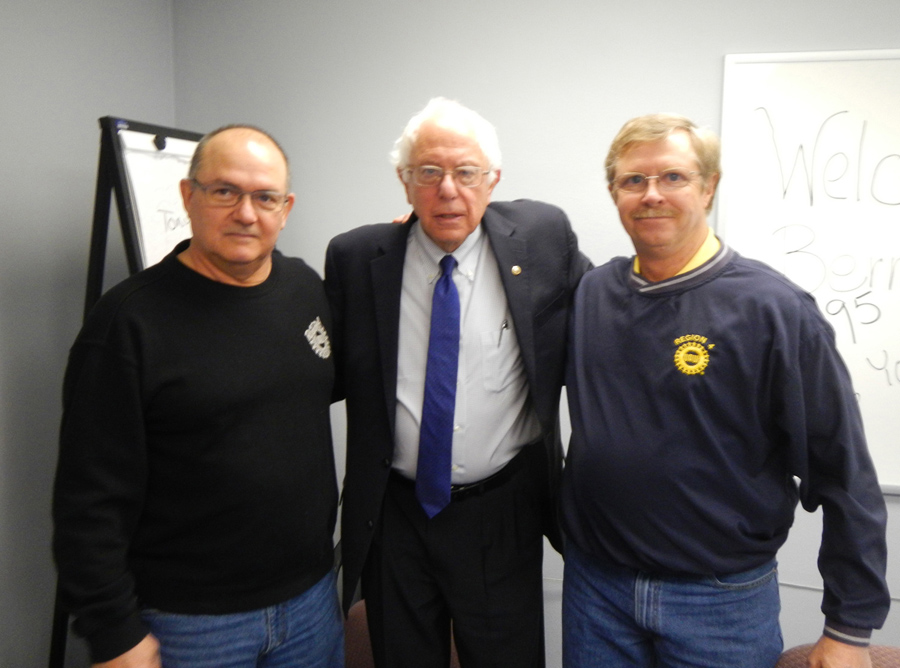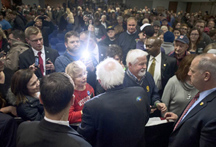 Lined up from the door to the road and beyond. Bernie takes the stage. VP Ron Splan & Pres.Tim Silha Cameras flashing, handshaking and well wishes.
welcome Bernie to our Hall. .
THE LOCAL 95 "ICE FISHING FUN DAY":
On Saturday, February 20th, we were on Storr's Lake, Milton, for our Local 95 Ice Fishing Fun Day...REVIVAL!! It was a beautiful day on the ice. Though it was in the high 40's the ice was safe and we were able to fish and hold our drawings right there.



Tim, Sandy & Gail Winner: Kyle Anderson ENJOYING refreshments Big Catch by Steve Grangaard

For a list of the Winners, please check it out here: WINNERS

WE HAVE BEEN ASKED QUESTIONS ABOUT UAW/GM LEGAL SERVICES: Here is what we have at this time to report to our membership regarding the Legal Services:
A new Legal Services Plan was negotiated under the recent UAW-GM, UAW-Ford and UAW-FCA contracts. The new Plan will be a multi-employer Plan and UAW represented members of GM, Ford and GCA will be eligible to participate in the Plan. Since it will be a new Plan, a Trust must be created, regulatory papers must be filed with the IRS and other steps must be taken before new cases can be opened or previous cases reopened.
It is hoped that these steps can be completed within the next several months. Once opened, the new Plan will be able to complete "office legal work" such as the preparation of wills, power of attorneys, prenuptial agreements, real estate documents, as well as handle other uncontested family matters and provide advice and draft letters for many types of personal legal problems including credit reporting, probate matters, consumer matters and real estate matters. If something cannot be handled by the "office work benefit", then the new Plan will be able to provide members with a low cost referral to a private attorney who has signed a contract with the new Plan to provide services to eligible UAW members at a substantially reduced rate.
When the start-up date becomes known all local Unions and Retiree Chapters will be provided with specific notice.
GENERAL MEMBERSHIP: We will next meet on Thursday, May 19th at 6 p.m. at the UNION HALL.
This meeting is for ALL UAW Local 95 members, Active and Retired. Our Local needs ALL it's members to run efficiently and represent our Membership. PLEASE make plans to attend your monthly membership meetings.

RETIREE DAY: The Local 95 Retiree Chapter will have their monthly membership meeting the 4th Thursday this month, May 26th 10 a.m. until 4 p.m. Join us for our first meeting of 2016, with great friends and wonderful door prizes. Bring your own table service and a dish to pass.

In Remembrance Update: Each month at our General Membership Meeting we read the names of Local 95 members who have passed away. We ring the bell to honor them as a friend and a family member of our Local. We have been asked many times to share these names on our website, and are in the process of setting this up. In the mean time, we are attaching the names of those we have reported out at this year's monthly meetings.
(Please note that our reporting month in many cases are months after their actual date of death. We rely and get our information from our local newspaper and GM's death notifications furnished to us each month.) Remembrance.
HALL RENTALS: We want to remind everyone...we still have dates available for 2016 for the rental of our Union Hall. We have "special rates" for our UAW members and "Other Union" members and a very reasonable rate for those not union affiliated.
Look over this: Hall Rental Information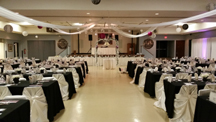 Call us at 608-755-5120, ext. 111.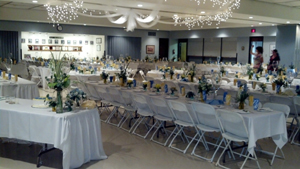 THANKS to our volunteers:
Local 95 Brothers Ron Splan and Bill Purkapile replaced our rope, grommets and hung all new Flags at the Union Hall. Thanks to them, our Flags were up in time for Memorial Day. Thanks gentlemen.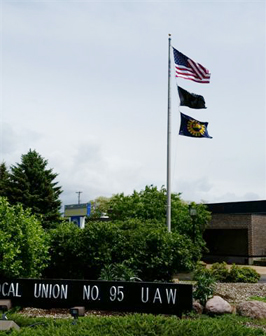 * * * * * * * * *

Looking for your Perfect Reception Hall?: Just imagine, you could be holding YOUR wedding reception in this beautiful Hall. Call 608-755-5120 ext. 111 to get more information. Special rates for our UAW Local 95 members and their immediate family. Start your plans with a call to us!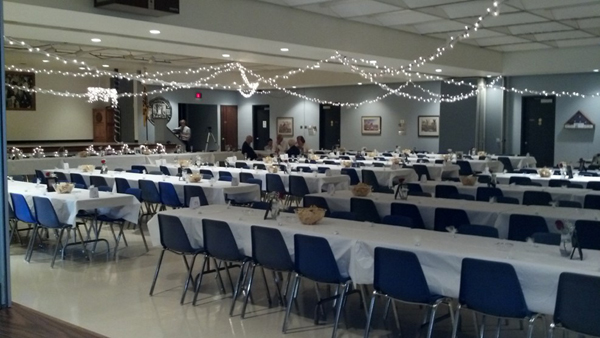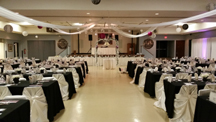 WE CAN MAKE YOUR DAY SPECIAL!

ECHO DONATIONS:
The Local 95 Community Service Committee is collecting non-perishable food items for ECHO and would like your assistance.
We have an ECHO barrel located just inside the doors coming into the Local 95 Office. Simply place your items in the barrel and we will see they are delivered to ECHO.
As always, we appreciate and thank our members for their kindness and generosity.
Any questions, please contact the Union Hall at 608-755-5120, ext. 111.
Message from Benefit Rep. Mike Feirn: Many of you may have seen the article regarding Mercy and their discontinuation of Medicare Advantage. PLEASE NOTE: This does not affect our member's insurance.

RETIREE DAY: The Local 95 Retired Worker's Chapter will hold their regular monthly retiree meeting on the 4th Thursday of the month.

HEALTH CARE NOTICE: Many changes to your insurance took effect on January 1, 2014. Even though MercyCare is no longer offered as an insurance option, you can still see Mercy Health System physicians and providers through your Blue Cross Blue Shield, Humana or United Health Care insurance. With convenient facilities and over 400 physicians, you can count on us to provide exceptional care for you and your family. Please visit us at MercyHealthSystem.org.
HEALTH CARE NOTICE: With the insurance changes that many had to make, effective January 1, 2014, the Edgerton Hospital wanted to make you aware that they accept Blue Cross Blue Shield, Humana and United Healthcare insurance. Click here to check them out: Edgerton Hospital



Benefit Rep. Mike Feirn: Mike has regular hours of 8:30 a.m. until 1 p.m. on Wednesdays at UAW Local 95.
We always tell our members to please call the Union Hall at 608-755-5120 before making the trip to the Union Hall to see our Benefit Rep. If there are any unforeseen circumstances which come up that would keep Mike from his regular hours...we will have it posted on this website, the Local 95's Facebook and on the phone recording at the Hall. Our way of trying to keep our membership in the loop and updated.

STILL - NO Ticks with UAW: The Janesville-Madison Women's Committee are still selling "The Tick Key", the easiest-to-use Tick Removal Devise on EARTH! The Tick Key easily attaches to your key chains or pet collars and come in 7 different colors. They are made of high-strength anodized aluminum, which is durable and easy to keep clean with alcohol.
These are available at the Union Hall for a mere $5.00. We are proud also to say, they are "MADE IN THE USA".



BENEFIT ANNOUNCEMENT REGARDING DAVIS VISION: You may have already received notification from Mercy Health Systems that effective March 1, 2013, Mercy Vision Centers will no longer accept Davis Vision Insurance. The full service Davis Vision provider for the Janesville Area is Wisconsin Vision. For any other information you can contact Davis Vision at 1-888-672-8393.



Workers Compensation Attorney: The Gillick, Wicht, Gillick & Graf, Injured Worker's Law Firm, has discontinued their scheduled hours at Local 95 every other month. They ask that you contact their office in Milwaukee via their toll-free phone number (800-942-2880) and schedule an appointment date and time to meet with them, making their trip to Local 95 more cost and time efficient. Again, they can be reached at toll free number 800-942-2880.

PHONE DIRECTORY: We have updated our Phone Directory. You can check it out by clicking on the link shown above.


7/19/11: UNION HALL HOURS CHANGED UNTIL FURTHER NOTICE: The Local 95 Office will be open on Tuesdays, Wednesdays and Thursdays from 10 a.m. until 3 p.m. until further notice. Please note: this will not change the hours of our UAW/GM Benefit Rep. Mike Feirn. His hours remain 8:30 a.m. until 1 p.m. on Wednesdays.