OFFICE HOURS AT UAW LOCAL 95
TUESDAY, WEDNESDAY, THURSDAY-10:00 a.m.-3:00 p.m.
UAW/GM Benefit Rep. at Local 95 - Wednesdays 8:30 a.m.-1:00 p.m.

CHECK OUT . . Calendar updates APRIL (link shown above)


In Remembrance Update: Each month at our General Membership Meeting we read the names of Local 95 members who have passed away. We ring the bell to honor them as a friend and a family member of our Local. We have been asked many times to share these names on our website, and are in the process of setting this up. In the mean time, we are attaching the names of those we have reported out at this year's monthly meetings.
(Please note that our reporting month in many cases are months after their actual date of death. We rely and get our information from our local newspaper and GM's death notifications furnished to us each month.) IN REMEMBRANCE

APRIL'S LOCAL 95 RETIREE DAY: Thursday, April 24th at the Union Hall. Please join us. There is music, food, important updates and cards or BINGO. Begins at 10 a.m., eat at noon (bring your table service and dish to pass), short meeting at 1 p.m. and wonderful company. You can't beat it.

ANNOUNCEMENTS:
The YWCA is holding their "Fix the Flats" Meat Raffle on Sunday, April 27th from 2-4 p.m. at the Junction Pub, 130 Merchant Row in Milton. EVERYONE is welcome. Raffles, prizes and 50/50's. Come out and join us for some FUN, while helping us renew and restore the housing in Jeffris Flats apartment building.
Local 95 is seeking "walkers", volunteers and contributors for the March of Dimes' "March for Babies" Rock County, to be held on Sat., May 3rd in Palmer Park. Registration is at 8:30 a.m., and walk at 9:30 a.m.
If you are interested or have any questions, please contact Alice Wilson at Local 95, 608-755-5120, ext. 111.
ARBOR DAY: The last Friday in April each year marks Arbor Day -- a special holiday to celebrate renewable, sustainable TREES. If interested in purchasing trees and shrubs you can contact the Rock County Land Conservation Department (440 N US Hwy 14, Janesville WI) at 608-754-6617, ext. 3, or website of www.co.rock.wi.us

Board of Directors Elections at BHCCU: If your banking facility is Blackhawk Community Credit Union, you are eligible to vote for up to 2 candidates for the Board of Directors at BHCCU.
You have the option to vote online, vote at one of the branches, or request a paper ballot mailed to you. Ballots must be in by 11:59 p.m. on April 22, 2014.
Local 95 President and BHCCU member Tim Silha is a candidate for a board position.

UPDATE ON BENEFIT REP HOURS AT LOCAL 95: Benefit Rep. Mike Feirn's schedule for the next month at Local 95 will be as follows:
Wed., Apr. 23rd..............................8:30 a.m. until 1 p.m.
Wed., Apr. 30th..............................8:30 a.m. until 1 p.m.
To reach him at his Region 4 Office, please call 1-866-782-6512.
GM Recall: Many have been inquiring about the GM ignition problem. Here is a website you can bring up to get more information. www.gmignitionupdate.com
MEMBERSHIP MEETING: Our next meeting will be Thursday, April 17th at 6 p.m. at the Local 95 Union Hall.
Show your Union Spirit and Solidarity...attend your monthly General Membership Meeting.
HALL RENTALS: Just a reminder: We have a great facility at Local 95 that we rent for wedding receptions, anniversaries, birthdays, etc. Call for rates. Our members get a great discount. Union members get a good discount also. And, yes, we do rent to non-union members also. Check us out, you won't be sorry!
NOTICE: The April Retired Workers Local 95 Chapter Membership Meeting will be on Thursday, April 24th. Doors open at 10 a.m., lunch at 12 noon and our meeting will be at 1 p.m.
Mark you calendars.
SUMMER FAMILY SCHOLARSHIPS: As a UAW member you and your family have a wonderful opportunity. Click on the Summer Scholarship and check out the attached information; and if you're interested, just call Local 95 and we will assist you in any way can.
Summer Scholarships
HEALTH CARE NOTICE: Many changes to your insurance took effect on January 1, 2014. Even though MercyCare is no longer offered as an insurance option, you can still see Mercy Health System physicians and providers through your Blue Cross Blue Shield, Humana or United Health Care insurance. With convenient facilities and over 400 physicians, you can count on us to provide exceptional care for you and your family. Please visit us at MercyHealthSystem.org.
HEALTH CARE NOTICE: With the insurance changes that many had to make, effective January 1, 2014, the Edgerton Hospital wanted to make you aware that they accept Blue Cross Blue Shield, Humana and United Healthcare insurance. Click here to check them out: Edgerton Hospital

______________________________________________________

A Diamond for Christmas or Valentine's Day?: Just imagine, you could be holding YOUR wedding reception in this beautiful Hall. Call 608-755-5120 ext. 111 to get more information. Special rates for our UAW Local 95 members and their immediate family. Start your plans with a call to us!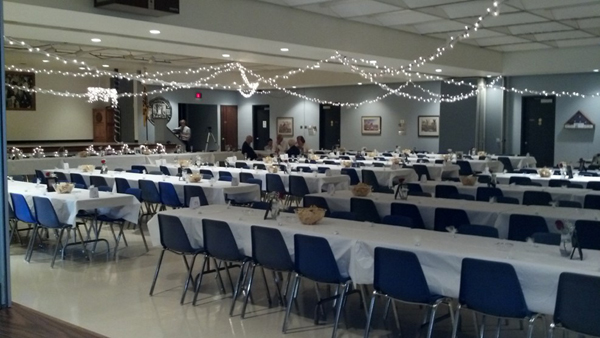 Benefit Rep. Mike Feirn: Mike has regular hours of 8:30 a.m. until 1 p.m. on Wednesdays at UAW Local 95.
We always tell our members to please call the Union Hall at 608-755-5120 before making the trip to the Union Hall to see our Benefit Rep. If there are any unforeseen circumstances which come up that would keep Mike from his regular hours...we will have it posted on this website, the Local 95's Facebook and on the phone recording at the Hall. Our way of trying to keep our membership in the loop and updated.

STILL - NO Ticks with UAW: The Janesville-Madison Women's Committee are still selling "The Tick Key", the easiest-to-use Tick Removal Devise on EARTH! The Tick Key easily attaches to your key chains or pet collars and come in 7 different colors. They are made of high-strength anodized aluminum, which is durable and easy to keep clean with alcohol.
These are available at the Union Hall for a mere $5.00. We are proud also to say, they are "MADE IN THE USA".


THANKS, BOB: At the March 28th Retired Worker's Chapter Meeting at Local 95, our past Local 95 Retiree Chairperson, former Region10 Director, and friend, Bob Vicars was honored with a plaque presented to him by Region 4 Director Ron McInroy, Assistant Director Brad Dutcher and Intl. Servicing Rep. Tony Rainey. Bob was thanked for his service to his Local, his Region and his Retiree Membership.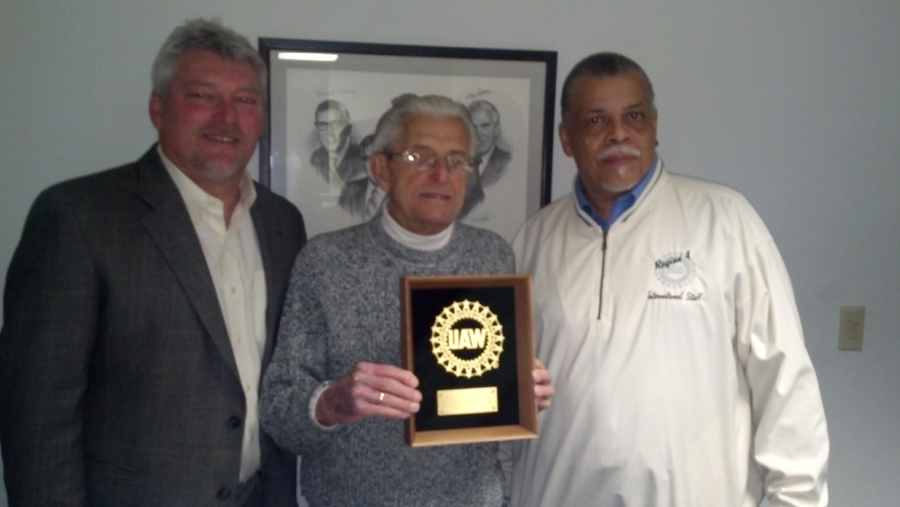 Shown from left to right: Region 4 Asst. Director Brad Dutcher, Bob Vicars, and Intl. Servicing Rep. Tony Rainey.

GM PLANT POEM BY WILLIAM WALLACE: I am sure I am not the only one that drives by our GM Plant in Janesville and actually misses the traffic jams at shift change, parking lots full and overflowing with cars and trucks, and people bustling to get into the Plant and to work on time. We have amongst us a member who puts his thoughts to poem. We requested and he graciously gave us permission to print of one his works. "The Plant Is Now Empty"

We included with his poem an illustration by our own Bill Fitzsimmons, which he did at the time of our GM Plant closing for our Local 95 Union News.

Our thanks to both William Wallace and Bill Fitzsimmons.

BENEFIT ANNOUNCEMENT REGARDING DAVIS VISION: You may have already received notification from Mercy Health Systems that effective March 1, 2013, Mercy Vision Centers will no longer accept Davis Vision Insurance. The full service Davis Vision provider for the Janesville Area is Wisconsin Vision. For any other information you can contact Davis Vision at 1-888-672-8393.



Workers Compensation Attorney: The Gillick, Wicht, Gillick & Graf, Injured Worker's Law Firm, has discontinued their scheduled hours at Local 95 every other month. They ask that you contact their office in Milwaukee via their toll-free phone number (800-942-2880) and schedule an appointment date and time to meet with them, making their trip to Local 95 more cost and time efficient. Again, they can be reached at toll free number 800-942-2880.

PHONE DIRECTORY: We have updated our Phone Directory. You can check it out by clicking on the link shown above.


WELCOME: The UAW/GM Legal Services are still located at the Local 95 Union Hall. We hope that the UAW/GM members will find this location even more convenient for their needs. UAW/GM Legal Services will retain their original phone number of (608) 755-1566.

2013: A few changes coming this Year:
* Our Monthly General Membership Meeting will be held the 3rd THURSDAY OF THE MONTH AT 6 P.M.
* Now more than ever, it is important that our membership keeps their addresses and phone numbers updated with the UAW. Communication is key to keeping everyone informed. Please call the Union Hall at (608) 755-5120 during regular officer hours to make any changes. If after hours, please leave your contact information on ext. 100 and an officer will call you back.

7/19/11: UNION HALL HOURS CHANGED UNTIL FURTHER NOTICE: The Local 95 Office will be open on Tuesdays, Wednesdays and Thursdays from 10 a.m. until 3 p.m. until further notice. Please note: this will not change the hours of our UAW/GM Benefit Rep. Mike Feirn. His hours remain 8:30 a.m. until 1 p.m. on Wednesdays.